NEWS:
07.09.15 - Finishing up new material for the next record! So these will be the last few shows in a minute as we shift our focus on recording. Come out!
JULY 18 - RECORDS WITH MERRIT
1614 Westport Rd, Kansas City, MO 64111
w/ Kvol(Iceland), Rhunes
JULY 24 - RECORD BAR
Haymaker Records Showcase Party!
1020 Westport Rd, Kansas City, MO 64111
w/ Riala, Schwervon, HMPH, Be/Non
AUG 27 - JACKPOT SALOON
943 Massachusetts St, Lawrence, KS
w/ Invalids


06.14.15 - Tour was tremendous. Quite appreciate everybody who was a part of it. Got several shows lined up in KC/LAWRENCE. Working on new music and we're shooting to do some recording soon. Keep a look out!
Mon June 22nd recordBar​ w/ Bent Knee, Hugh Cornwell (early show)
Mon June 22nd Jackpot Saloon w/ The Life and Times (less early show)
Thu June 25th Bottleneck for Lawrence Field Day Fest
Fri June 26th Brick w/ Sinple, La Guerre
Sat June 27th Riot Room w/ Houdini Light Machine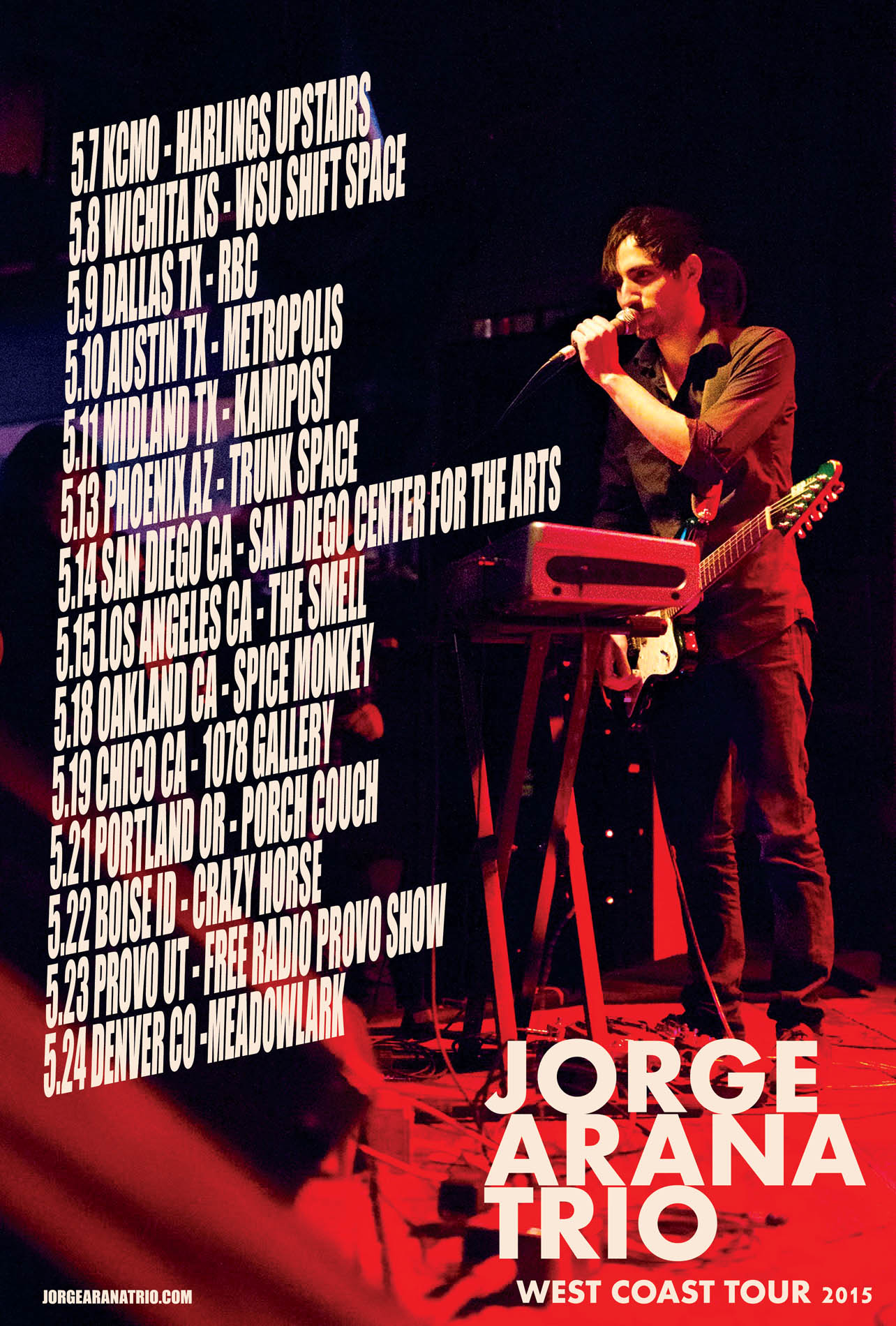 5.07.05 - TOUR STARTS TODAY!
Check complete listing here
Won't be easy to update the site on the road, so keep a look at our facebook tour event.
Hope to see you at a show!
5.03.05 - Thursday May 7th, come hang at our tour kick off show at Harlings Upstairs!
we'll be playing with Riala, The Fog, and American Thunder Band!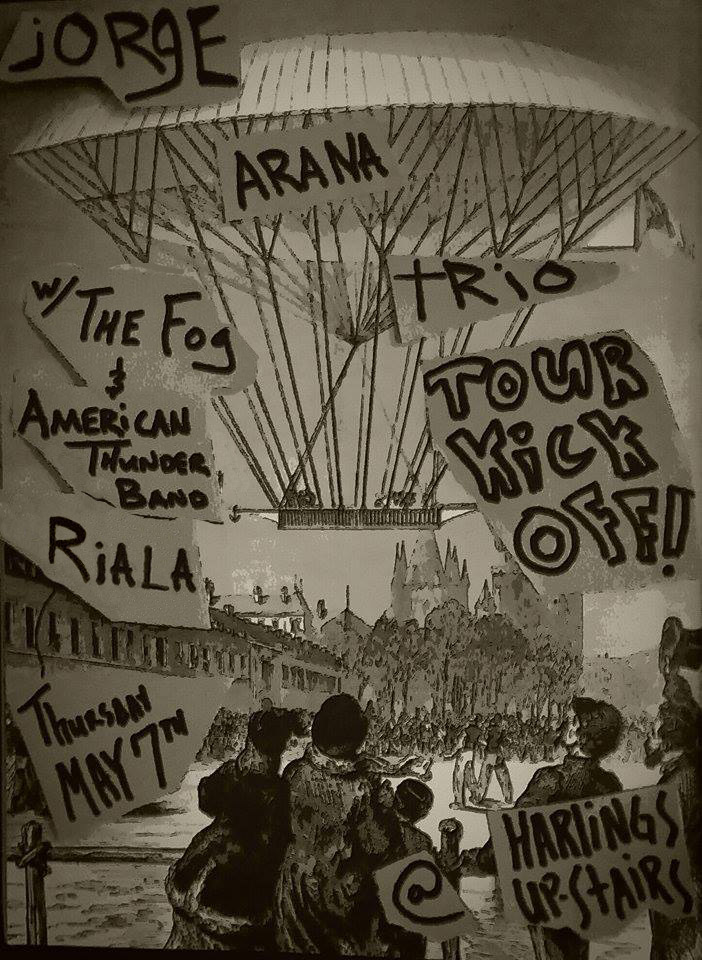 4.20.05 - Middle of the Map Fest is coming up!
We play at the Riot Room Patio Friday Apr 24th. We go on at 8:15p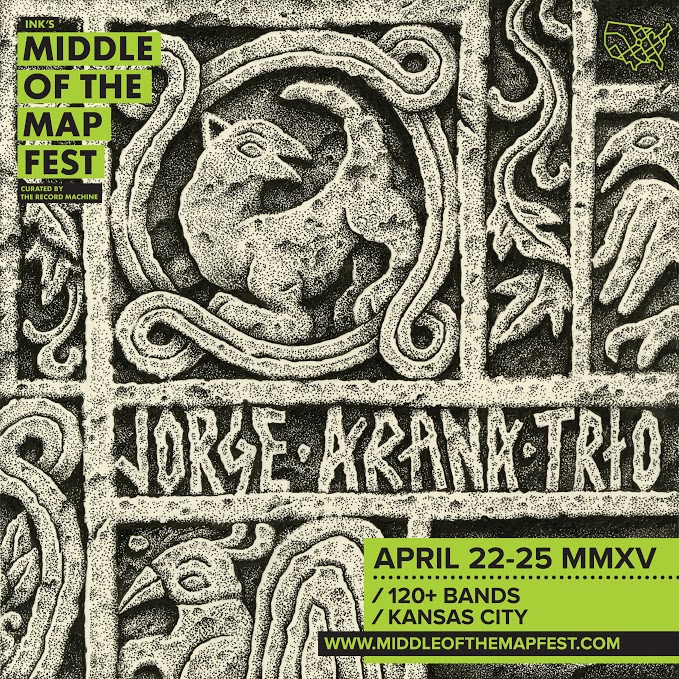 04.04.15 - WEST COAST TOUR DATES!
We're headed west this MAY. We're quite looking forward to warmer weather and sharing our music with new peeps. Got a couple dates we're still trying to flesh out. So stay tuned for those, and overall more details. Cool.

5.7 KCMO - HARLINGS UPSTAIRS
5.8 WICHITA KS - SHIFTSPACE
5.9 DALLAS TX - RBC
5.10 AUSTIN TX - METROPOLIS
5.11 MIDLAND TX - KAMIPOSI
5.12 ALBUQUERQUE NM - TBA
5.13 PHOENIX AZ - TRUNK SPACE
5.14 SAN DIEGO CA - SAN DIEGO CENTER FOR THE ARTS
5.15 LOS ANGELES CA - THE SMELL
5.16 OPEN
5.17 Chico CA - 1078 GALLERY
5.18 OAKLAND CA - SPICE MONKEY
5.20 OPEN
5.21 PORTLAND OR - PORCH COUCH
5.22 BOISE ID - CRAZY HORSE
5.23 PROVO - FREE RADIO PROVO SHOW (VENUE TBA)
5.24 DENVER CO -MEADOWLARK
03.21.15 - Several KC shows coming up. Check em out. Will be listing May West Coast tour dates quite soon. Keep your eyes peeled for that.

MAR 24 - RECORD BAR w/ DAMS, Various Blonde, Riala
APR 14 - HARLINGS w/ DAIKAIJU
APR 24 - RIOT ROOM for MIDDLE OF THE MAP
JUN 21 - BRICK w/ Sinple, Monta at Odds
AUG 1 - RIOT ROOM w/ Ancient River, Monta at Odds
02.02.15 - Added several shows for the KC area, including opening for The Life And Times at Record Bar Feb 27th. Check it out!
Also, we're setting up a West Coast Tour for May!!
-If you want us to play your town, or if you're a band that wants to get in touch, hit us up at
jorgearanatrio@gmail.com
12.30.14 - It's been a great year for the trio. We played almost every Kansas City fest under the sun... Middle of the Map Fest, Psych Fest, Int Fokl Alliance, Riverfest. We were invited to play some really cool events, Demencha magazine release party, KC Block Party, Spring Fling. We teamed up with Haymaker Records and released our first 12" record 'OSO'. Went to Austin and played Midcoast Takeover and several other shows during SX. Had a string of great shows in the southeast/east, making friends with sweet bands. Here's to another solid year with new music released and new tour routes travelled.

11.16.14 - Getting some new music ironed out. Got some cool shows coming up to round out the year, including playing with Wrong Kata Trio for their record release at Replay!
10.25.14 - Check out a video from our set at KC Psychfest

9.28.14 - If you missed it, we've got an interview on the current Pitch Weekly, grab one before it's gone!

9.16.14 - Psychfest is approaching quick! Check out the final lineup:

9.16.14 - Back from tour and it was great! Thank you all who set up a show, let us crash in your place, hung out, played with us, etc! It was a grand time.
Pictures up HERE!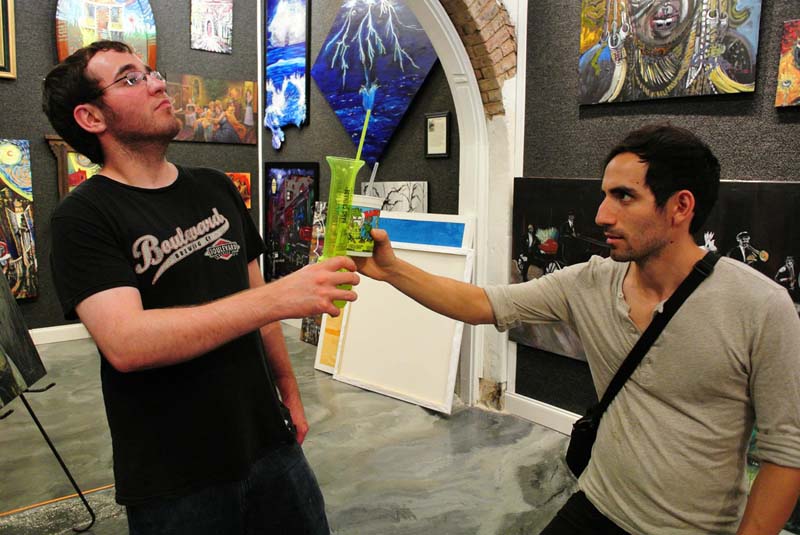 9.3.14 - TOUR DATES UPDATED!

9.4 KCMO @ Mills Record Company
9.5 Lawrece @ Replay Lounge
9.6 Indianapolis IN @ Typewriter House
9.7 Baltimore MD @ Club K
9.8 Richmond VA @ RNH House
9.9 Atlanta GA Union EAV
9.10 TBA
9.11 Birmingham AL Parkside Cafe
9.12 New Orleans, LA @TBA
9.13 San Antonio TX @ The Ten Eleven
9.14 Tulsa OK @ The Vanguard Tulsa
08.19.14 - WE'RE GOING ON TOUR NEXT MONTH!
Here are the dates so far. Got a couple open dates so far, if you've got any leads on venues/bands for said dates, hit us up at jorgearanatrio@gmail.com ! otherwise, see you at a show!
Fri Sep 5th - Replay Lounge - Lawrence, KS
Sat Sep 6th - House Show - Indianapolis, IN
Sun Sep 7th - Club K - Baltimore, MD
Mon Sep 8th - RNH House - Richomond, VA
Tue Sep 9th - OPEN - Knoxville/Atlanta?
Wed Sep 10th - OPEN - Atlanta?
Thur Sep 11th - Parkside Cafe, Birmingham, AL
Fri Sep 12th - OPEN - New Orleans?
Sat Sep 13th - The Ten Eleven, San Antonio TX
Sun Sep 14th - The Vanguard, Tulsa OK
8.09.14 - Reviews are coming in on 'Oso'! Check em out at FECKING BAHAMAS, PLENTY OF SWORDS, DELI MAGAZINE, TRUE LOVE IS UGLY!!
8.01.14 - FREE ALL AGES in store performance at Mills Record Co Saturday night!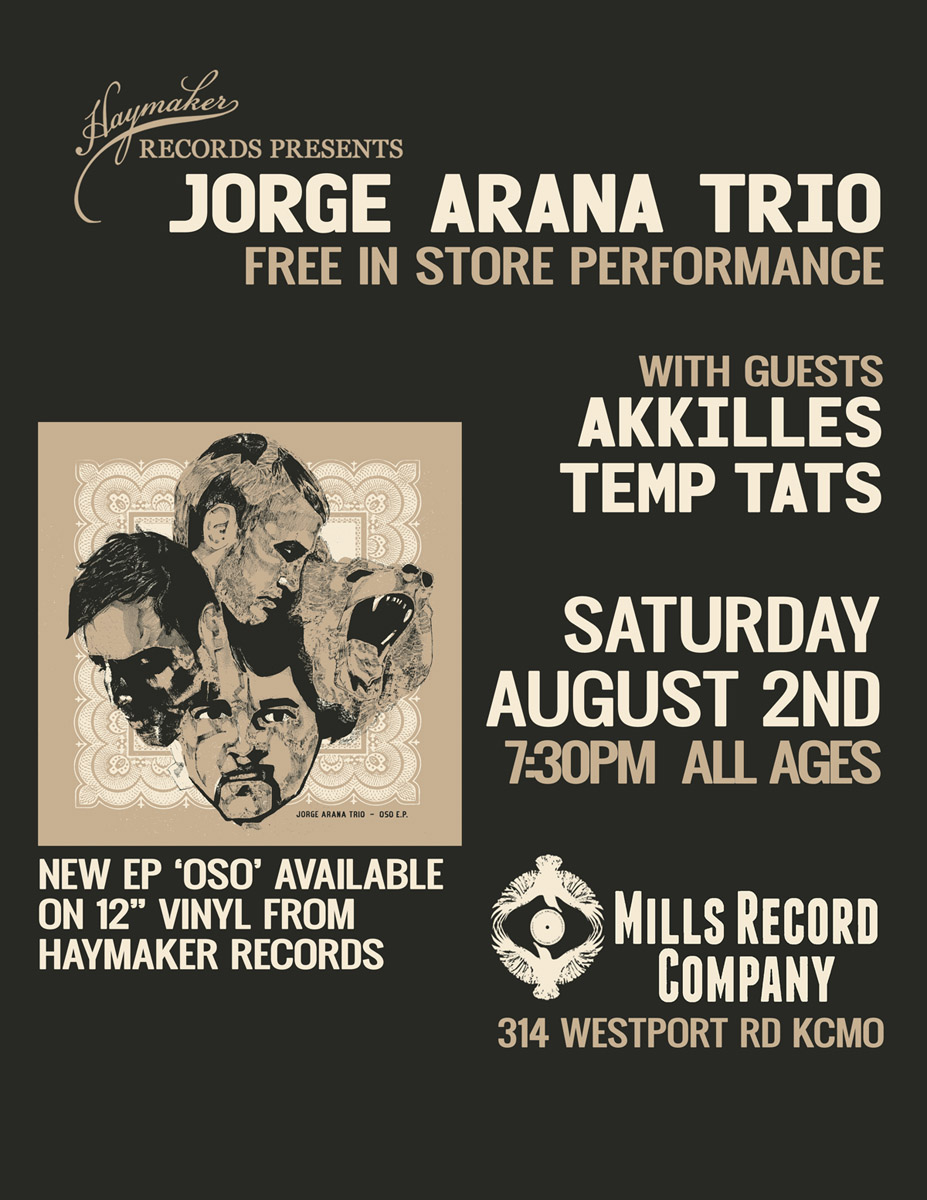 7.22.14 - 'Oso' is officially out today! Grab a copy Mills Record Co, Records with Merrit, or other area recods stores. Download a copy from Itunes, Loudr, Bandcamp, etc.

7.18.14 - Reviews for Oso up on THE DELI and MILLS RECORD CO

7.16.14 - Check out this week's INK:

7.15.14 - Wednesday July 16th tune into KKFI 90.1 or stream at http://kkfi.org/ to listen to the trio and Haymaker Records talk about the new album on the Wednesday MidDay Medley
-Also! Saturday July 19th watch us KCTV5 around 9:30
6.29.14 - Promo video for new EP 'OSO'

6.27.14 - New album comes out 7/22. Come to the release party at Record Bar and get it a little early 7/19.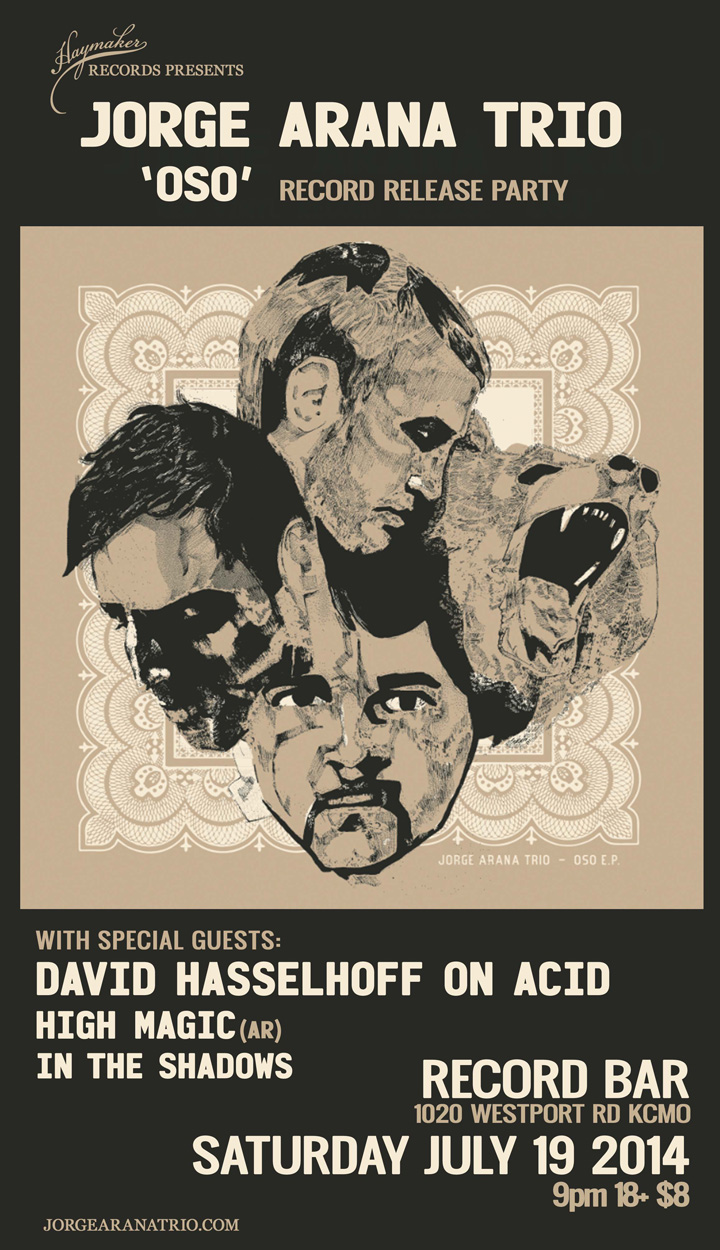 6.17.14 - We've been invited to play KC Riverfest! A big July 4th party by City Market. Check the site kcriverfest.com/
6.15.14 - JAT has been nomimated for a Pitch award this year. Pretty cool! we're up for 'Best Live Act'. Vote HERE
6.5.14 - New track 'Crime of Passion Fruit' from upcoming ep 'Oso' on Haymaker Records is part of the Crossroads Summer Block Party Sampler. It's FREE, check it out, includes music from Metatone, Le Guerre, ACBs, Mat Shoare + moar.
5.5.14 - We're playing this years Crossroads Block Party, a free outdoor all ages concert at 19th & Wyando. Check it out HERE.
4.21.14 - Several Show added and more to come! Also, check out our article in the new issue of Demencha Magazine
4.6.14 - Check out our performance with Steven Tulipana at MOTM Fest