NEWS:
9.28.14 - If you missed it, we've got an interview on the current Pitch Weekly, grab one before it's gone!

9.16.14 - Psychfest is approaching quick! Check out the final lineup:

9.16.14 - Back from tour and it was great! Thank you all who set up a show, let us crash in your place, hung out, played with us, etc! It was a grand time.
Pictures up HERE!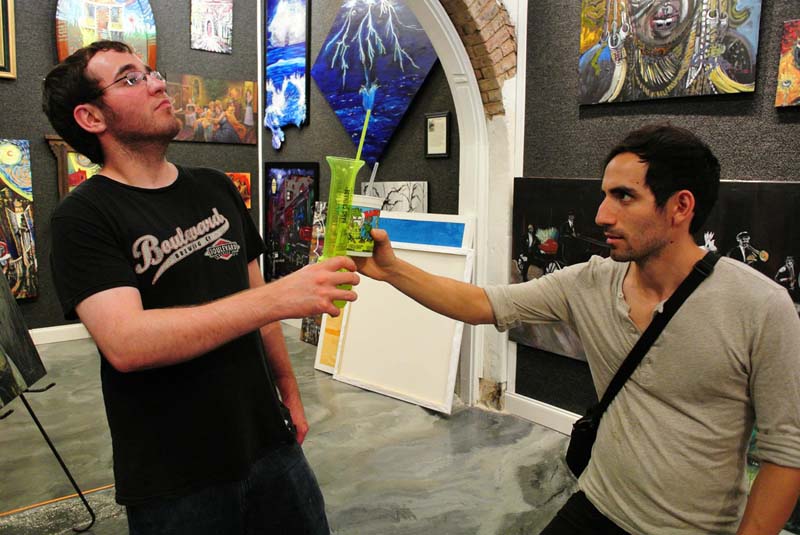 9.3.14 - TOUR DATES UPDATED!

9.4 KCMO @ Mills Record Company
9.5 Lawrece @ Replay Lounge
9.6 Indianapolis IN @ Typewriter House
9.7 Baltimore MD @ Club K
9.8 Richmond VA @ RNH House
9.9 Atlanta GA Union EAV
9.10 TBA
9.11 Birmingham AL Parkside Cafe
9.12 New Orleans, LA @TBA
9.13 San Antonio TX @ The Ten Eleven
9.14 Tulsa OK @ The Vanguard Tulsa
08.19.14 - WE'RE GOING ON TOUR NEXT MONTH!
Here are the dates so far. Got a couple open dates so far, if you've got any leads on venues/bands for said dates, hit us up at jorgearanatrio@gmail.com ! otherwise, see you at a show!
Fri Sep 5th - Replay Lounge - Lawrence, KS
Sat Sep 6th - House Show - Indianapolis, IN
Sun Sep 7th - Club K - Baltimore, MD
Mon Sep 8th - RNH House - Richomond, VA
Tue Sep 9th - OPEN - Knoxville/Atlanta?
Wed Sep 10th - OPEN - Atlanta?
Thur Sep 11th - Parkside Cafe, Birmingham, AL
Fri Sep 12th - OPEN - New Orleans?
Sat Sep 13th - The Ten Eleven, San Antonio TX
Sun Sep 14th - The Vanguard, Tulsa OK
8.09.14 - Reviews are coming in on 'Oso'! Check em out at FECKING BAHAMAS, PLENTY OF SWORDS, DELI MAGAZINE, TRUE LOVE IS UGLY!!
8.01.14 - FREE ALL AGES in store performance at Mills Record Co Saturday night!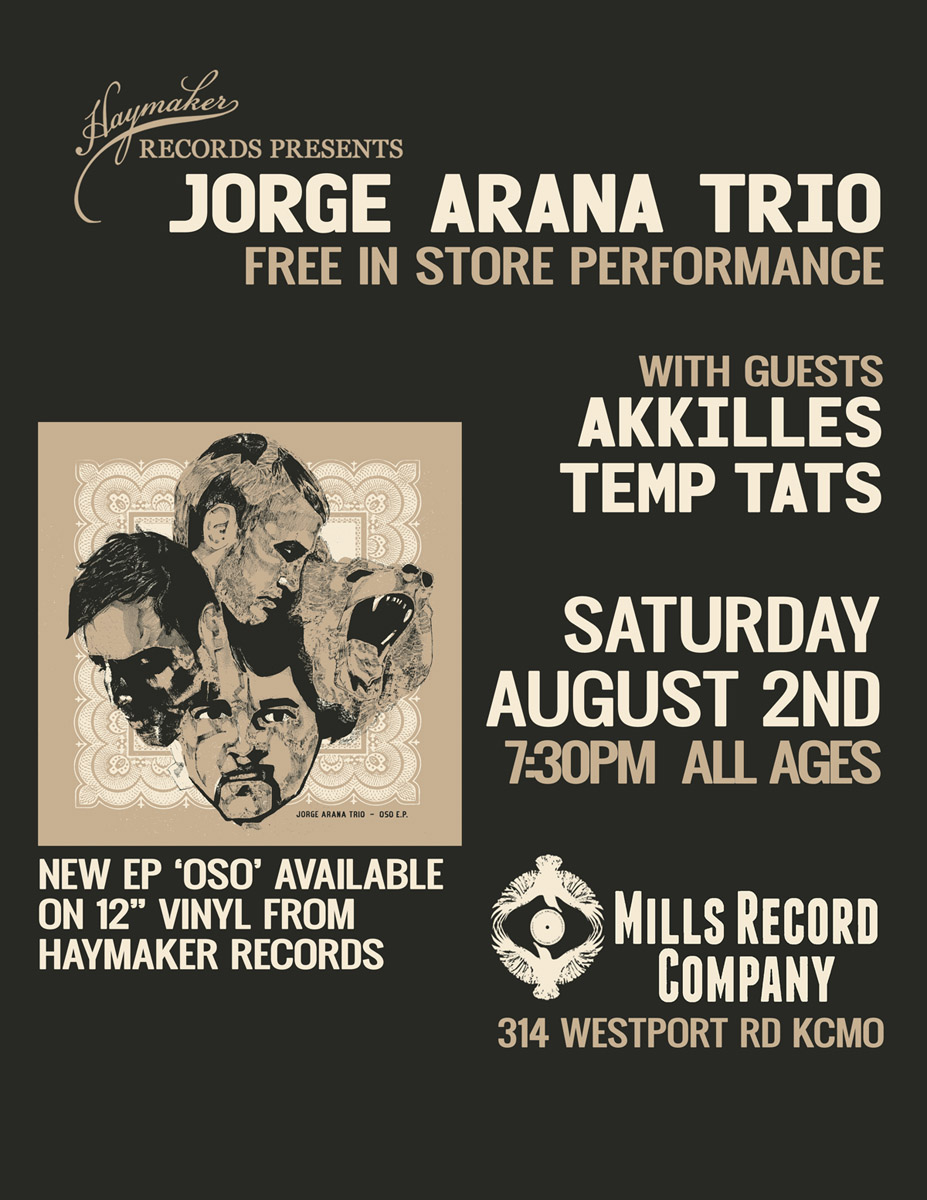 7.22.14 - 'Oso' is officially out today! Grab a copy Mills Record Co, Records with Merrit, or other area recods stores. Download a copy from Itunes, Loudr, Bandcamp, etc.

7.18.14 - Reviews for Oso up on THE DELI and MILLS RECORD CO

7.16.14 - Check out this week's INK:

7.15.14 - Wednesday July 16th tune into KKFI 90.1 or stream at http://kkfi.org/ to listen to the trio and Haymaker Records talk about the new album on the Wednesday MidDay Medley
-Also! Saturday July 19th watch us KCTV5 around 9:30
6.29.14 - Promo video for new EP 'OSO'

6.27.14 - New album comes out 7/22. Come to the release party at Record Bar and get it a little early 7/19.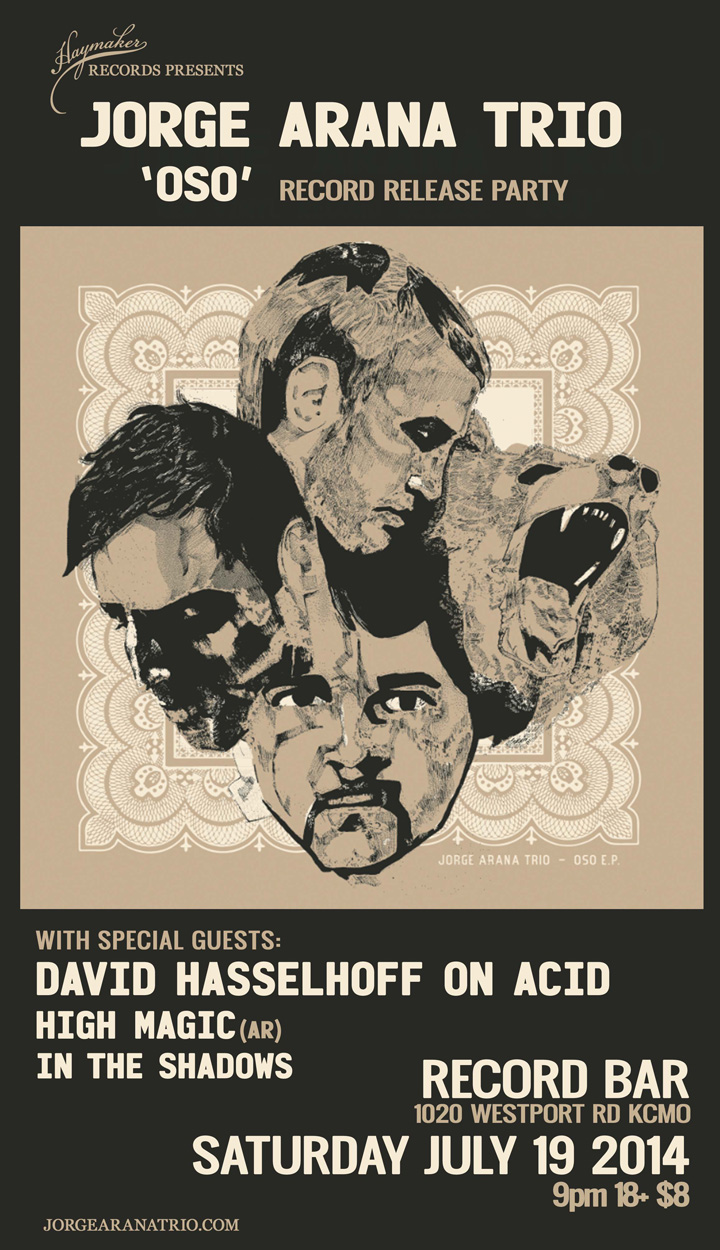 6.17.14 - We've been invited to play KC Riverfest! A big July 4th party by City Market. Check the site kcriverfest.com/
6.15.14 - JAT has been nomimated for a Pitch award this year. Pretty cool! we're up for 'Best Live Act'. Vote HERE
6.5.14 - New track 'Crime of Passion Fruit' from upcoming ep 'Oso' on Haymaker Records is part of the Crossroads Summer Block Party Sampler. It's FREE, check it out, includes music from Metatone, Le Guerre, ACBs, Mat Shoare + moar.
5.5.14 - We're playing this years Crossroads Block Party, a free outdoor all ages concert at 19th & Wyando. Check it out HERE.
4.21.14 - Several Show added and more to come! Also, check out our article in the new issue of Demencha Magazine
4.6.14 - Check out our performance with Steven Tulipana at MOTM Fest


03.29.14 - Good news! New EP 'Oso' is done and mastered. We'll be putting it out on vinyl on Haymaker Records later in the spring. For now we'll have limited copies of the 'Oso' on cassette at Middle of the Map Fest. We play Friday April 4th 7:45p @ Riot Room Patio. Check out the Schedule:
http://www.middleofthemapfest.com/music-schedule/
But before that, Thursday Apr 3rd we play with the awesome Glimpse Trio at the Brick!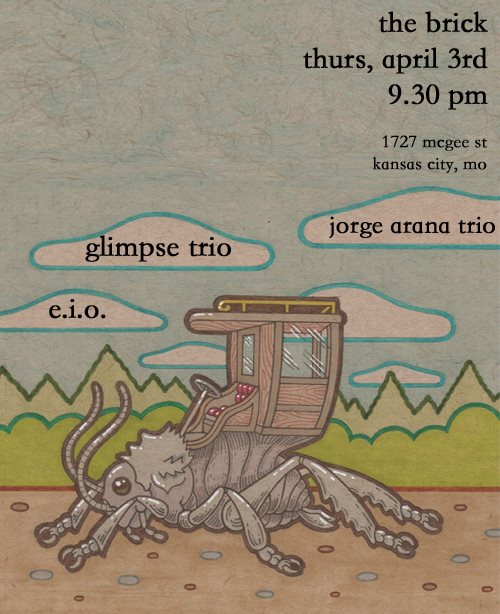 03.09.14 - AUSTIN!! see you this weekend!
Playing 4 shows between Saturday and Sunday. All free shows.

Saturday March 15
SHANGRI-LA - 4:15pm (Midcoast)
CAROUSEL LOUNGE - 7pm (event)
Sunday March 16
IGUANA GRILL - 9pm (event)
AMPED - 12am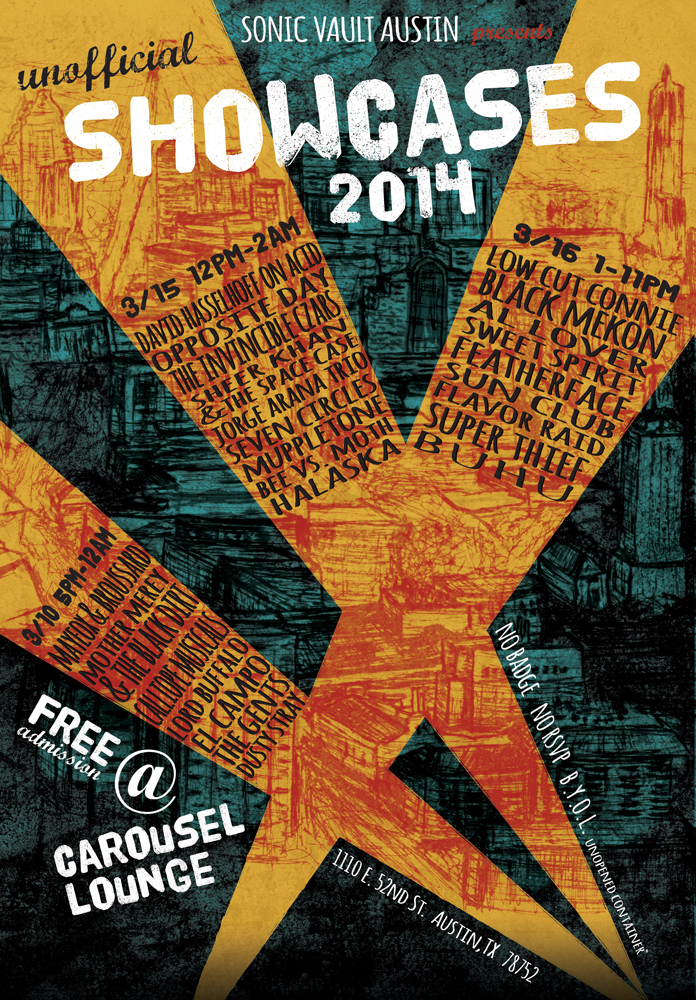 And in KC...
March 19th @ the Brick we'll be sharing the stage with the awesome Bent Knee, and Cloudburst featuring the great Jeff Harshbarger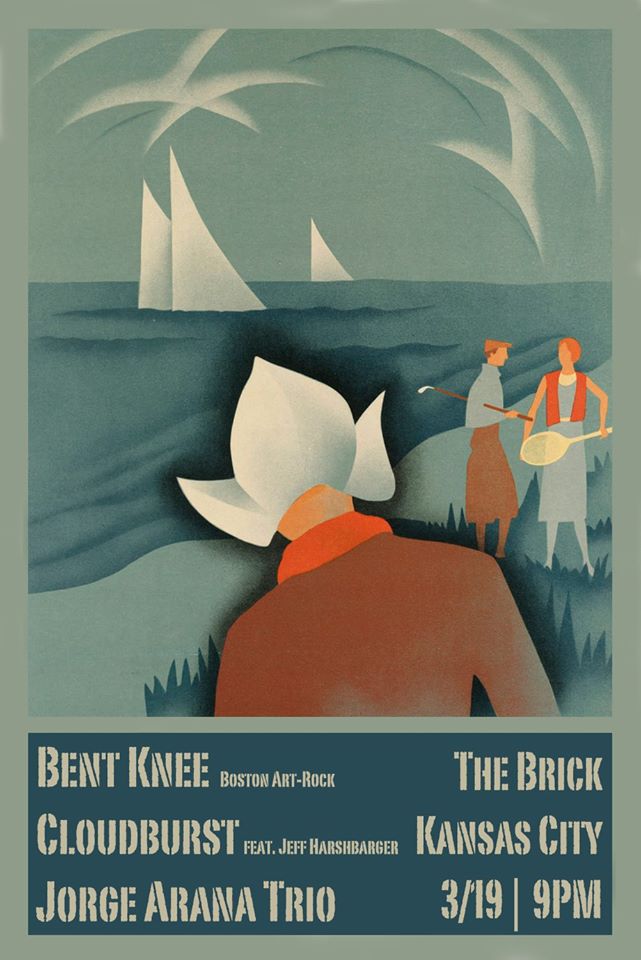 03.01.14 - Went into Element and got some stuff layed down. Sounds pretty heavy.
More photos here yo.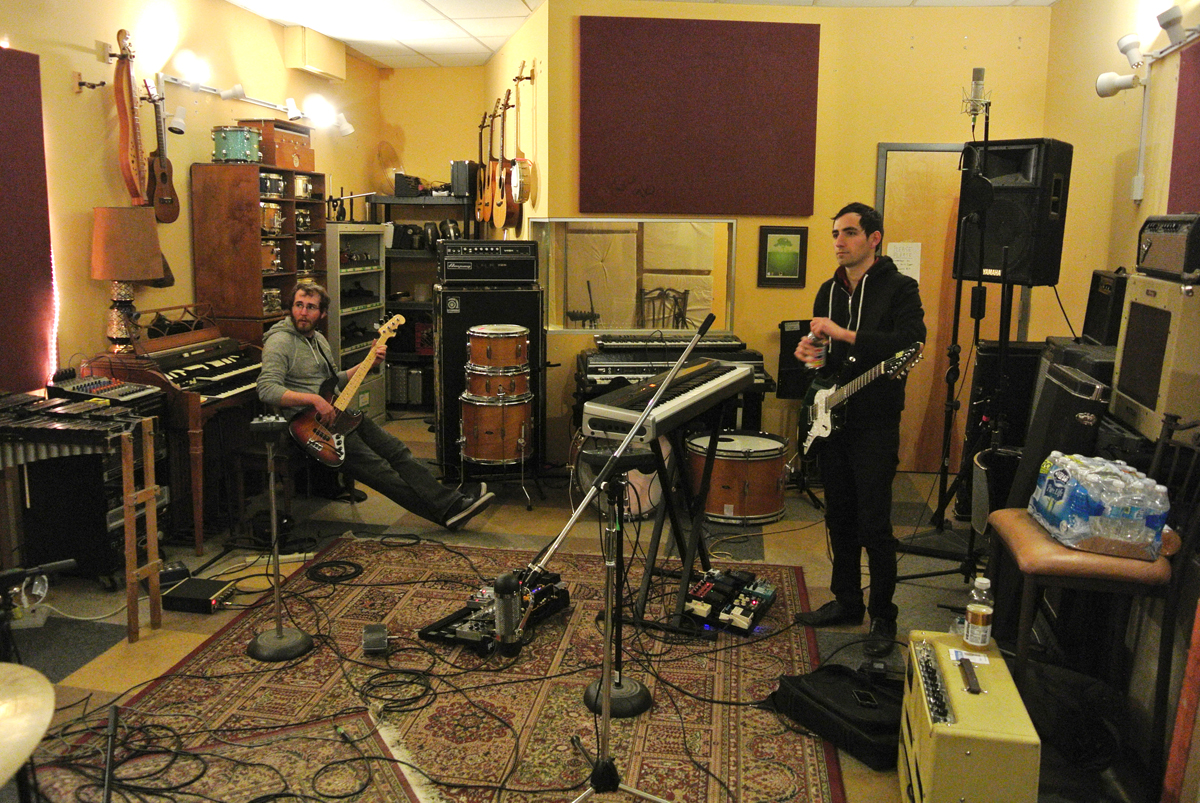 (photos by Brentok Cook)

02.21.14 - Int Folk Alliance Conference was good fun, thanks Money Wolf for inviting us. Next up is Austin, TX. We've got a couple shows set up for Sat March 15th. Keep your eyes peeled, other performances may pop up:

SHANGRI-LA - 4pm - Sat Mar 15 (Midcoast)

CAROUSEL LOUNGE - 7pm - Sat Mar 15 (event)

(There are free shows, no badges needed)


02.05.14 - We're playing Middle Of The Map Fest this year!
Check out the lineup (!!!, Gary Neuman, Get Up Kids, Wolf Eyes, etc)




Also, check out a review of our 7" split with Ambulants at Dead Formats.

01.30.14 - Got some cool developments to announce soon.
Though for now come out at see the trio at their next KC show at the Record Bar Feb 11th.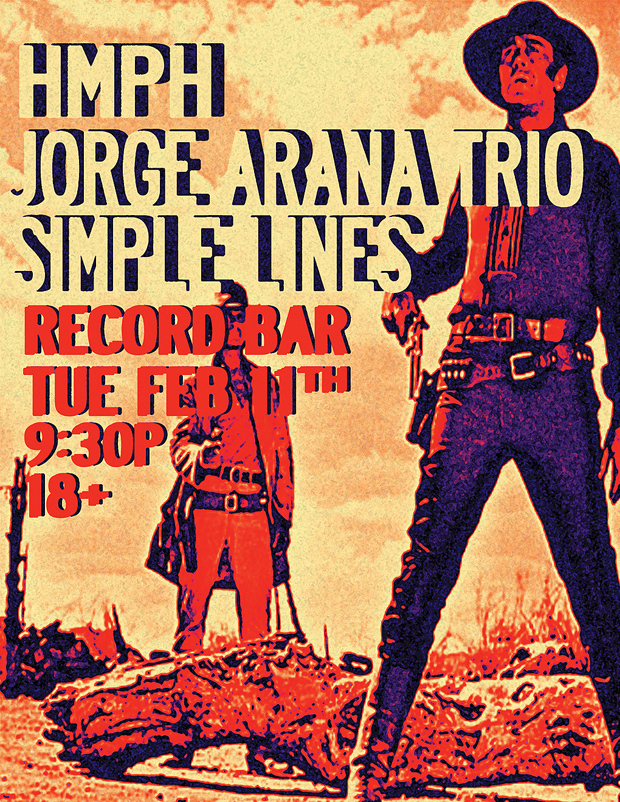 01.17.14 - The trio will be making the trek down to Austin again this year to play Midcoast Takeover!


01.10.14 - Got a couple gigs set up for next month:
Feb 11th RecordBar with HMPH, Bad Ideas
Feb 19th International Folk Alliance Conference @ Crown Center


Sweet fan-made video for 'Snake In The Grass'



12/20/13 - Photos from the tour are up on our facebook page. GO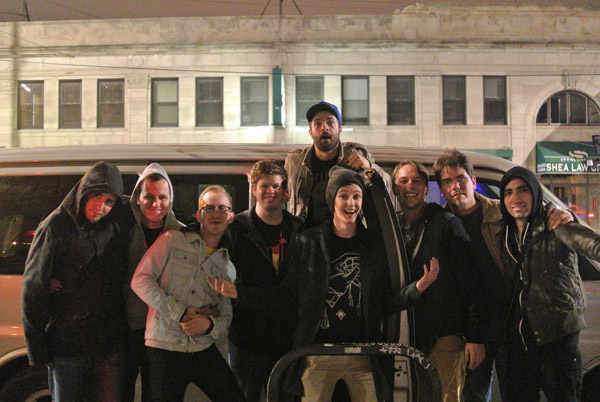 12/09/13 - JAT+ Live in Birmingham, AL (new song)


New 7in split is out and you can get your copy at the BHR Store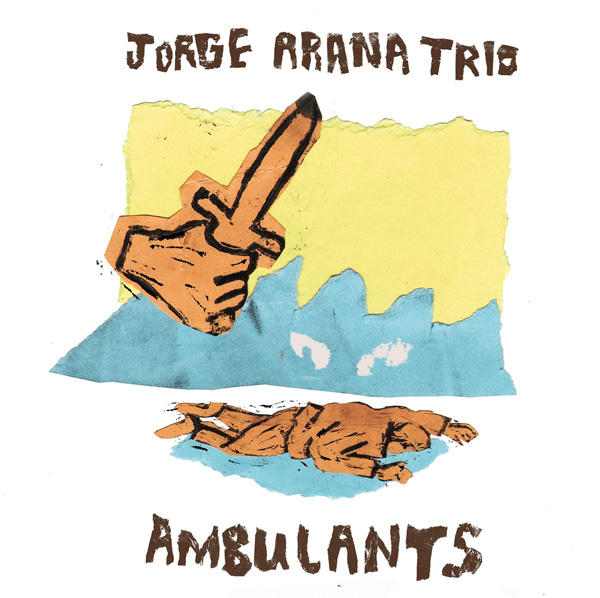 12/08/2013 - Made it on the Math-Rock News Fall 2013 Compilation. It's free and awesome so go on and download it. It features 'Snake in the Grass' from Mapache.



11/19/2013 - Back from tour, it was a great time! Thanks to all who made it a success: our family at Bridal Horse, Cole in TN, our NY friends/family, Thomas and co in Birmingham. THANK YOU.


10/21/13 - Fall Tour dates:

Sat Nov 9th - Snappers
Sun Nov 10 - Quenchers
Tue Nov 12 - Brooklyn Fireproof
Wed Nov 13 - Goodbye Blue Monday
Fri Nov 15 - Pilot Light
Sat Nov 16 - House Show


10/02/13 - New 7" split with Ambulants out November 05, 2013 on BHR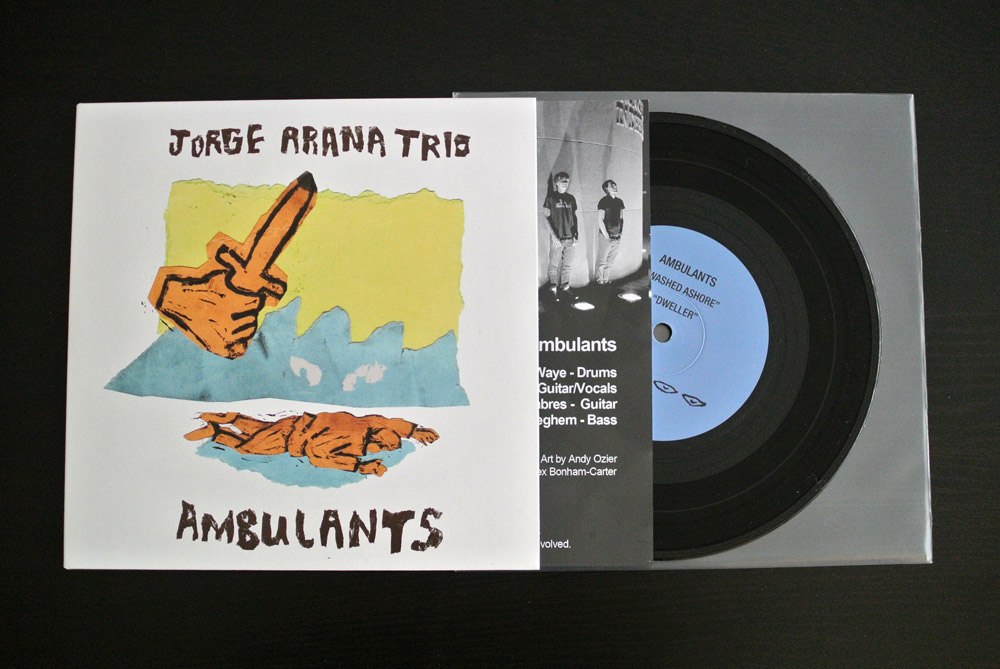 10/02/13 - Nice write up on INK Magazine!
Trio EAST COAST fall tour dates to come!
Going into the Studio mid month to knock out a new EP named 'OSO'
8/13/13 - Check that shit out!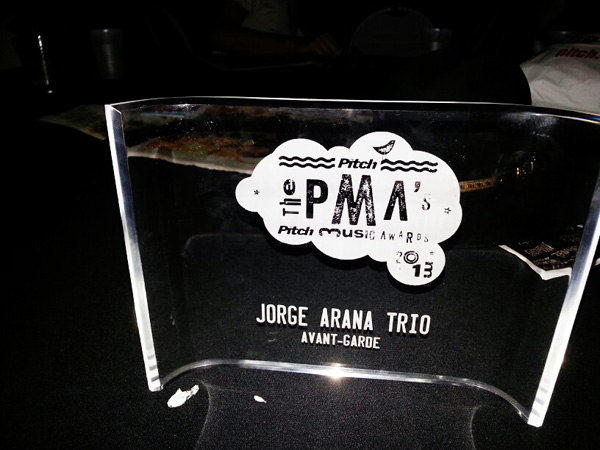 8/9/13 - Check out a preview of our new split 7in coming out this Fall!

7/15/13 - We're up for best Avant-Garde group on Pitch's Music Awards. Vote HERE
6/16/13 - New site up!
Been working on some new recordings.